Gosh, is it Monday already? Had a busy weekend!
I had my police volunteer dinner, which was a cowboy theme this year, with a chili cook off contest. It was fun! The food was delicious, we played a great western TV trivia game and had a raffle where I won a cowboy boot bank and a year's worth of free frozen custard at Culver's! LOL! That prize is SO me. :-)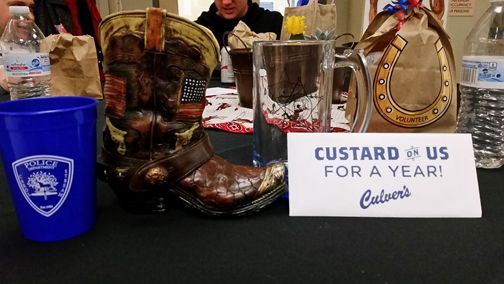 Then I had another great hot glass class with my best buddy, Chris. I made what is going to look like a giant Hershey's kiss. I chose purple and peach as my swirl colors. Can't wait to see what it looks like when I pick it up in several days. It was just a relaxing day hanging out with Chris. We haven't been able to get together since Christmas.
I finally got my new phone ordered, the Galaxy S7. My Galaxy Alpha has been on its last legs for months now and Best Buy finally had a great sale. I go after work today to pick it up. Yay!
And that's pretty much it! How was YOUR weekend?