Title
: Shadows in His Eyes
Author
:

agt_spooky
Pairing
: Jensen/Jared
Rating
: NC-17
Word Count
: 45,121
Genre
: Police AU
Warnings/Spoilers
: domestic violence themes
Disclaimer
: It's RPS, people. It never happened, but I wish it would. :-)
Author's Notes
: Many thanks to

sn_24lover
,

charityflint
and

queeberquabbler
for their beta work and invaluable input. Thank you for being my cheerleaders!
Summary
: For K-9 Officer Jared Padalecki, transferring from the San Antonio police department to the elite L.A.P.D. was a dream come true. He nearly forgets he's in Hollywood until he responds to a 911 call that brings him to the home of actor Jensen Ackles.
It appeared that Jensen had it all – a career that was on fire and a loving, long-term relationship with his partner, Mark. But then Jared uncovers the truth that Jensen had been trying to hide, and the illusion comes crashing down.
Can Jared help Jensen break free of a life he's convinced he deserves before it's too late, and in the process help them both find love?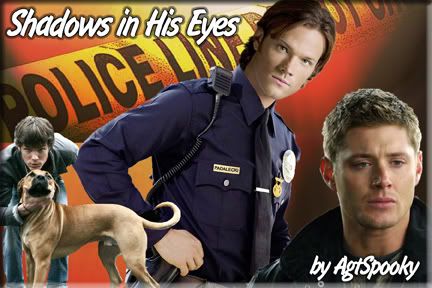 (banner by

agt_spooky)
( Shadows in His Eyes - Chapter 5 )