One of the things I did over the weekend was pick up the first issue of the new Supernatural comic book Caledonia. I don't know why I bothered because I knew I was going to dislike it, and yep, sure did.
Now the cover art is great, but the interior art is HORRENDOUS. Here, check it out: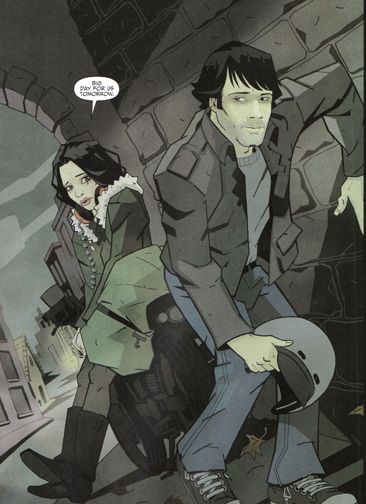 With all of the talented comic book artists out there, WHY does SPN consistently, with every single series, get the absolute worst? I really hope Jensen and Jared never see ANY of these comics and how the artists have drawn them.
Then there's the storyline, which finds Sam taking part in a student travel program where he heads to Edinburgh, Scotland. He's supposed to be attending lectures at the University but instead he heads to the library to research local monsters and mythology. He immediately meets this girl, Emma (who just so happens to be a hunter), who gets him drunk and takes him to see some ghosts that appear once a year.
Now I'm trying to figure out exactly when this takes place during Sam's time at Stanford and how it fits in with him dating Jessica, because in this comic he's got the hots for this hunter chick and makes out with her. So please tell me he's not cheating on Jess. But with as little care as the previous comic series have shown toward canon, they probably don't even know Sam
was
dating someone.
Since it's obvious that Dean will NOT be putting in an appearance in this comic (as he would never have gotten on a plane and apparently never had contact with Sam during this time period) I have no interest in reading another issue of this.
And what do you want to bet that DEAN will never get his own comic series, even though he had plenty of adventures while Sam was off at college.