Wow, where did the weekend go?? Can I have it back, please??
Saturday was kind of crazy, at least weather wise. I had no more than gotten into the car and started driving to meet my best buddy Chris for breakfast when it started SNOWING. Seriously?? It just kept getting worse and worse and the wind was blowing until it was a mini-blizzard. It was nuts! WTF, Mother Nature? It's April for crying out loud!
Finally made it through the snow and had a delightful breakfast with Chris. We always have the best conversations about everything. :-) The reason we got together was so that we could head back to our glass studio and pick up the pyramids we made two weeks ago. OMG, they turned out so good!We're both really pleased with ours. Here's a few photos of mine: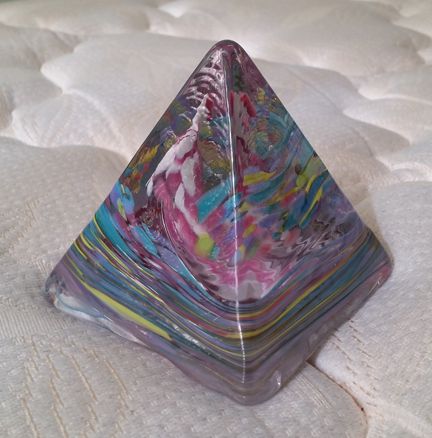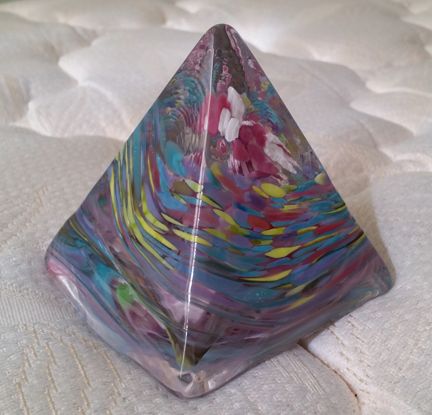 Pretty cool, eh? I love taking these classes. Can't wait for the next one in a few months!
One of the things Chris and I talked about was Wizard World here in August. We decided to go ahead and bite the bullet and get the VIP passes. So as soon as we each got home we did that. Chris got the Sebastian Stan pass and I got the David Duchovny one. OMG, I'M GOING TO MEET AGENT MULDER! I might not survive the encounter. :-)
Spent the rest of the day pretty much just getting caught up on a bunch of TV shows I had on the DVR, plus a bit of computer work, still promoting my new book.
Made yummy pancakes for breakfast for John and I on Sunday, then we headed out to run a bunch of errands. I hate doing that on the weekend, taking up hours when I could be doing something much more fun. We had lunch out, then back home to put away all the groceries we'd just bought and do laundry, then vacuuming and dusting. Oh, did I mention it was 73 degrees? Snow on Saturday, shorts on Sunday. [shakes head].  Then I had OT work to do at home, so sat down and got that done, too.
And that was about it. Too much busy-busy! I want one more weekend day to just sit around and read or something. :-)  How was YOUR weekend?